This is my mom's craft blog. I think you'll see a couple familiar faces… 😉
Crafting with Capri
It all started with these two bracelets.  Actually, they are called cuffs.  Kandi cuffs.   The first one was a gift.  The second one was a contest prize.
They are made from pony beads and stretch cord.  They are traded and given as gifts.  A simple google search on "kandi cuffs" leads to an abundance of how tos and patterns.
My college age daughter and her friend came to visit for a week.  They were thrilled when they found out I had a stash of pony beads left over from my days as a Girl Scout leader and other craft activities that I no longer needed.  It did not take them long to get busy.
Well I could not have all this crafting going on around me without me wanting to try my hand at it.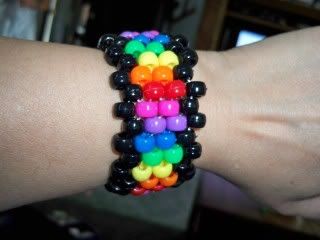 Even my son found it hard to resist.
It is a lot of fun. …
View original post 134 more words